There's a reason people call their partners their "better half." Most of us aim for partners and relationships that influence us to be our best selves. In most cases, we think of living our best lives in terms of attitude, health and personal growth, but there's no doubt that money plays a part in the equation. Whether we like it or not, studies have shown money has a big influence on relationships.
In a study we conducted on finances and relationships, we found that money is one of the top causes for friction between couples. In fact, one in five couples get into an argument at least half of the time they talk about money. If there's no resolution, this kind of frequent bickering can put strain on a relationship that can lead to resentment or even a break up.
We wanted to know how couples influence each other's spending, so we surveyed over 200 couples to find out how their partners affect their spending habits.  Even though financial disagreements can affect relationships long before you move in together, it becomes a bigger issue once you're sharing household expenses. For this reason, we surveyed only married or couples who cohabitate.
Here are some of the key takeaways:
One in three couples say their partner influenced them to spend less.
17 percent stated that their partner influenced them to spend more.
46 percent felt that their partner influenced their spending habits, but only 20 percent believed their partner affected their own spending.
29% say their partner influenced them to spend less
People who perceive their partner to be more responsible with money have a higher sense of well-being and are happier, according to a studypublished in the Journal of Family and Economic Issues. The study found that the opposite is also true, and that couples who felt their partners were financially irresponsible were less committed to the relationship.
More people say their partner influenced their spending than the other way around. In fact, only 6 percent were willing to admit they influenced their partner to spend more.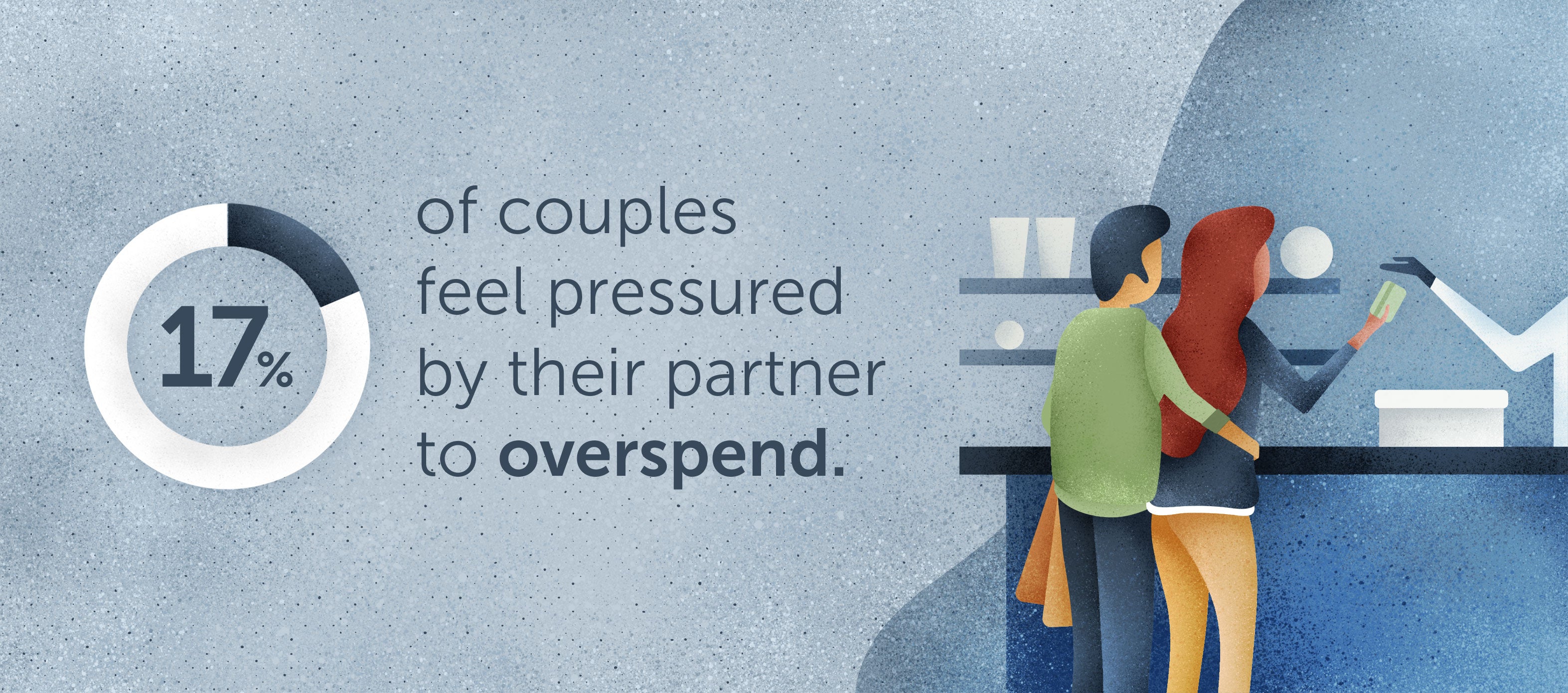 We all know that they type of friends we choose to hang out with can influence how we think and behave, but it can also affect how and when we spend money. Peer pressure doesn't just end in grade school.
A recent study found that nearly three-quarters of 25 to 34 year-old women compare their own financial situation to that of friends. This can lead overspending on clothes and gadgets, while maxing out credit cards to buy essentials and fund vacations. It can also lead to being more critical of how your partner spends money, especially if you're trying to keep up with friends who seem to have it all.

Financial responsibility is an attractive quality in a potential partner, and having a partner who practices a pay-as-they-go philosophy to avoid debt is one of the most attractive money management traits.
42% of adults say knowing someone's credit score would affect their willingness to date that person, according to a recent survey. If you're already married or living together, understanding your finances and your credit score is one of the first steps you can take to getting on the same page about your spending habits.
Methodology
The statistics in this post came from one survey question facilitated by Survey Monkey. The sample consisted of over 250 Americans and ran during January2019. Post-stratification weighting was employed in order to attain a sample that is representative of the population.
Original Source