U.S. stocks rose for a fifth day in muted trading as gains in technology shares outweighed a slump in financials sparked by falling Treasury yields. Crude fell below $54 a barrel.
The S&P 500 tied it longest rally of the year, with most major groups advancing, led by large-cap tech shares. Trading volume was 15 percent below the 30-day average. The measure twice rose to within a whisker of its 200-day moving average, a level it last topped in December, only to fall back. Earnings and economic data were mixed, giving investors little to trade on ahead of tonight's address to the nation from President Donald Trump.

The relative calm in markets belies an undercurrent of uncertainty as trade talks between the U.S. and China remain
unresolved and America lurches toward another government shutdown. Investors will be watching the State of the Union address later for any more signs of
political rancor or clues on the outlook for foreign trade.
The Stoxx Europe 600 Index capped a sixth advance in a row despite growth
warnings from two chipmakers. Euro area PMIs were revised upward, helping boost sentiment further, but the common currency struggled as
disappointing data from Italy hung over the region, while sterling fell following a
weak services report.
In Asia, many markets were shuttered for the Lunar New Year holidays. Australian shares jumped the most in more than two years, powered by
financial stocks following the results of a yearlong inquiry into misconduct in the industry. Japanese equities nudged higher.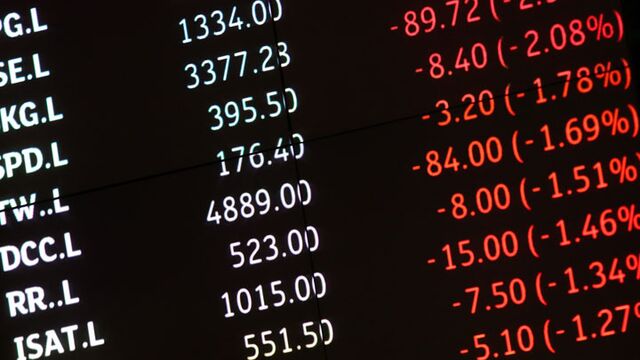 Elsewhere, West Texas oil turned lower as traders
weighed output cuts from the OPEC producer group and its partners against expectations for rising U.S. crude inventories. Emerging-market shares and currencies drifted.
Pemex bonds jumped after Mexico's president said he'll announce extraordinary measures to support the oil firm.
Among key events in the coming days:
Asian markets closed Tuesday: China, Hong Kong, Indonesia, Korea, Malaysia, Philippines, Singapore, Taiwan, Pakistan
Earnings season continues, with reports this week from Twitter, Hasbro, Ryanair, Disney, Philip Morris, BNP Paribas, ING, MetLife, Societe Generale
Trump delivers a delayed State of the Union address Tuesday
On Wednesday, Federal Reserve Chairman Jerome Powell gives his first public comments following the January FOMC meeting and rate decision.
Central banks in India and the U.K. set rates this week
These are the main moves in markets:
Stocks
The S&P 500 Index gained 0.5 percent to a two-month high as of 4 p.m. New York.
The Nasdaq 100 Index was higher by 0.9 percent while bank shares slumped almost 0.2 percent.
The Stoxx Europe 600 Index rose 1.4 percent, reaching the highest in 12 weeks on its sixth consecutive advance.
The MSCI Asia Pacific Index rose 0.4 percent to the highest in almost four months.
The MSCI Emerging Market Index increased 0.4 percent.
Currencies
The Bloomberg Dollar Spot Index added 0.1 percent.
The euro fell 0.2 percent to $1.413, the weakest in more than a week.
The British pound decreased 0.6 percent to $1.2955.
The Japanese yen was flat at 109.951 per dollar.
Bonds
The yield on 10-year Treasuries dipped two basis points to 2.70 percent.
Germany's 10-year yield fell one basis point to 0.17 percent.
Britain's 10-year yield declined five basis points to 1.232 percent.
Commodities
Gold futures were flat near $1,319 an ounce.
West Texas Intermediate crude declined 1.6 percent to $53.67 a barrel.
— With assistance by Samuel Potter
Original Source